Young & innovative company
Motivated & international team
Attractive remuneration & further training

You're looking for an exciting new job? In Berlin, one of the most interesting cities in the world? With an employer who gives you all the freedom you need? Then you've come to the right place!
We are always looking for qualified colleagues. Maybe even exactly you. We are looking forward to your application!
Located near Berlin's central station, in the coolest city in the world, we at uCastMe run an agency placing event personnel and support staff for companies, and all with our own software. Since its foundation in 2014, our goal is to become the world's largest recruitment portal. However, we are not just an online platform like any other. ucm.agency is also in constant personal contact with cool clients, looks after great staff and is part of the big events in Germany. Passion and dedication by our young and commited team is a basic requirement and we have already been able to realise large scale campaigns, implement international assignments and count worldwide known companies and brands among our customers. We find the right personnel for every imaginable event. We work on it ina motivated manner in our office with much commitment and creativity.
To be able to assert themselves in the world of start-ups, all members of a company must work together. We at ucm.agency live and work according to this maxim. It is also very important to us that we understand and trust each other. This is what makes a team! We believe that outstanding results can only be achieved with people who identify with a company and who work together to create an exceptionally good working atmosphere.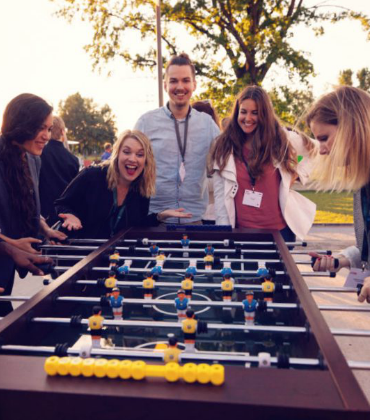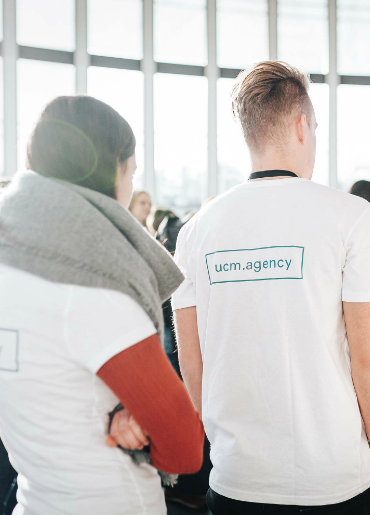 What's behind ucm.agency?
The heart of our business is our ucm.agency software. Thanks to it, personnel requests can be effortlessly handled by customers. Our pool of employees benefits from faster and better retrievability in our database. Thus, nothing stands in the way of an uncomplicated booking process.
Everything that makes up ucm.agency is created in our office. We are well-versed in programming using HTML, CSS and Javascript and we take care of the conversion and staffing of exciting projects, such as Fibo or bauma. With our in-house marketing, we can also ensure that all marketing strategies, for example in the area of SEA, SEO and social media, are driven forward according to our ideas. We offer you a lot of freedom so that you can develop creatively with us and use your full potential. Everybody helps us and we need the same from you. We do not want yes-men who do unskilled work. We need someone who is able to plan and implement projects independently, supervises their own areas of responsibility and is interested in becoming a part of ucm.agency. In short: You should be creative, be actively involved and bring your own suggestions for the revolution in the field of recruitment.
But with us, not only work awaits you. At regular intervals, team-building measures will take place. For example, we cook for each other, take food and drink and let our souls dangle in an exuberant atmosphere on excursions. Whether spring, summer, autumn or winter – with ucm.agency you will experience and learn a lot in a very short time.
Then send us your application now!
We are looking forward to meeting you!